Nutri-West
Core Level Health Reserve (multivitamin/mineral)
Supportive Function:
Packed with a powerhouse of essential vitamins and minerals, this formula provides a true, "core level" answer to full nutritional support. This formula provides high amounts of the antioxidant nutrients, i.e. vitamin C, vitamin E, selenium, zinc, and the bioflavonoids. Core Level Health Reserve also contains well-known herbs such as eleuthero, goldenseal, garlic and tillandsia. Plant constituents such as the balancing chlorophyll, and phytochemicals (lemon bioflavonoids, rutin, hesperidin, etc.) complement the formula. The high concentration of nutrients in Core Level Health Reserve makes it an ideal choice for anyone looking for a complete balanced multi vitamin.
Total Children's Chewable
Supportive Function:
A complete multiple vitamin and mineral for children (or adults who have a problem swallowing tablets).
Complete Omega Essentials (high-quality fish oil)
Supportive Function:
Nutritional support for chronic pain, inflammation, depression, osteoarthritis, and a healthy immune system. Also supports the cardiovascular system, kidneys, and the body's ability to regulate normal cholesterol and triglyceride levels.
Complete Children's DHA/EPA (chewable capsules)
Supportive Function:
Support for a healthy immune system. Also supports the normal brain development, cardiovascular and nervous system functions.
DSF (De-Stressing Formula)
Supportive Function:
The perfect supplement to be chosen in stressful times! Glandulars, vitamins, minerals, antioxidants and phytochemicals synergistically work together to support the various energy-producing systems of the body.
B-Complex
Supportive Function:
A total (hypoallergenic) formula that employs the synergistic action of all the B vitamins. Additionally, it is boosted with Choline and Inositol, which are vitamin-like substances that participate in fat metabolism. People who are exposed to stressful situations, or who have a poor dietary intake, may choose to supplement with B Complex.
Hypo-D (Digestion aid)
Supportive Function:
Hypo-D might be chosen by the individual with insufficient acid secretion who is looking for additional HCL and digestive enzyme support. Contrary to popular belief, many cases of acid reflux/heartburn are due to too little acid in the stomach, not too much. This supplement helps the body produce more acid naturally.
Total Enzymes
Supportive Function:
Gentle, fast-acting plant enzymes assist in the normal digestive processes necessary to extract vital nutrients from our diet. Often a pancreatic insufficiency limits the optimal utilization of essential vitamins, minerals, and other nutrients. Ideally, food should be completely broken down to assure that macromolecules do not pass into the system. Plant enzymes work in various pH environments, increasing their effectiveness along the gastrointestinal tract.
Total Probiotics
Supportive Function:
A healthy balance of intestinal flora supports immune function and decreases colony populations of harmful bacteria and yeast. This formula contains FOS molecules which attract bifidobacteria in the gut. Especially helpful when populations of flora have been decreased from antibiotic use.
Total Leaky Gut
Supportive Function:
Total Leaky Gut provides a comprehensive array of nutrients to support the integrity of the intestinal lining, one of the most crucial assets to health we have.
Total Joint Support
Supportive Function:
A superb formula containing many nutrients that act synergistically to support healthy bone and connective tissue. Glucosamine sulfate, antioxidant nutrients, and mucopolysaccharides provide the building blocks and "mortar" for strengthening and supporting the joints in the body.
Total CMO
Supportive Function:
A fatty acid, a natural immunomodulator that acts to modulate the immune response and support normal joint function. CMO appears to normalize the immune system and stop the body's attack on its own healthy tissues no matter what the trigger for the autoimmune attack is, whether it is an allergic food trigger, excessive fat, or foreign substances from microbes. CMO also seems to have a lubricating effect allowing stiff joints to move more easily.
Total Liver D-Tox
Supportive Function:
This formula provides comprehensive nutritional support for liver detoxification.
Total Yeast Redux
Supportive Function:
Yst-Redux is a special formulation of herbs, vitamins, and minerals which is nutritionally helpful against fungal infections, candida and yeast.
Total Multimune
Supportive Function:
Complete immune system support containing Vitamin A, Vitamin C, Vitamin B-6, Calcium (as chelate), Magnesium (as chelate), Zinc (as chelate), Manganese (as chelate), IP6 (Inositol Hexaphosphate), Lycopene, Colostrum, Lymph, Spleen, Thymus, Parotid, Maitake Mushroom, Green Tea Extract, Astragalus, and Pomegranate (root) (with Ellagic Acid).
Total Greens
Supportive Function:
A wide array of plant flavonoids, antioxidants, fiber and healthful nutrients provides overall support for health, including detoxification, weight balance, immune system support, inflammation support, protein balance, cholesterol and triglyceride levels, etc.
Total Heart
Supportive Function:
Synergistic heart support is boosted with other ingredients, including the nutrient Co-enzyme Q-10, a vitamin-like molecule best known for its supporting actions on energy, circulation, and the heart.
Total Eyebright C
Supportive Function:
Support product for general eye conditions or people prone to cataracts.
Total Eyebright M
Supportive Function:
General eye support product for Macular Degeneration.
Total Brain
Supportive Function:
Support of right and left hemispheres and normal brain function. Helpful for conditions like dementia, Alzheimer's, and Attention-Deficit Disorder.
Total Female
Supportive Function:
Complete all-around female product to support normal endocrine balance of libido, vaginal and breast health, normal menstruation and menopause.
Total Male
Supportive Function:
Complete all-around formula to support normal endocrine balance, male potency, libido, prostate and testes.
Total Chelate
Supportive Function:
Nutritional support for arteries, heart, kidneys, and brain. This formula helps to detoxify heavy metals from the body.
Anabolic Labs
Pro-Enz
Pro-Enz is designed to help manage inflammation. The combination of bromelain (plant based proteolytic enzyme) and other key ingredients make it ideal as a support for patients with physically demanding lifestyles (heavy labor, athletes) as well as those subject to pro-inflammatory lifestyle factors (poor diet, stress, etc.).
Salizain
An all natural pain reliever that can eliminate minor discomforts and allow the healing process to progress. Salizain includes white willow bark extract combined with cayenne, turmeric, ginger and bromelain. These all natural ingredients are designed to block pain impulses from multiple directions, providing faster, more effective pain relief and allowing for a more timely healing response.
Bone Support Formula
Bone Support Formula is a comprehensive bone health formula for prevention and high risk intervention. It contains nutritional factors supporting the broad spectrum of bone health from premium forms of calcium and magnesium through soy isoflavones.
Dee Cee Labs

Formula 303
Natural relaxant for the relief of muscle spasm, tension, and stress.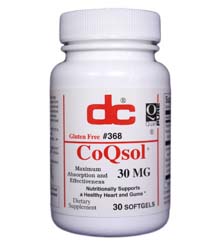 CoQsol (CoEnzyme Q10)
CoQsol is a proprietary formula of Coenzyme Q10 that supports heart health and increases energy levels. The special delivery system enhances absorption 300% for maximum absorption and effectiveness.